COMPOSITION:
Each film coated tablet contains:
Slidenafil USP
Eq. to slidenafil 50mg
About Your Medicine: Zoy is tablet of sildenafil citrate which is prescription medicine taken by mouth for the treatment of Erectile Dysfunction (ED) in men, ED is a condition where the penis doesnot harden and expand when a man is sexually excited, or when he cannot keep an erection Zoy may help a man with ED get and keep an erection when he is sexually excited. Zoy must be sildenafilcitrated does not:
Cure ED
Increase a man's sexual desire.
Protect a man or his partner from sexually transmitted diseases, including HIV. Speak to your healthcare professional about ways to guard against sexually transmitted diseases.
Serve as a male from of birth control
Slidenafil citrate is only for menwith ED. slidenafil citrate is not for women or children. Slidenafil citrate must be used only under a healthcare professional's care.
Erectile dysfunction that is medicational-induced or caused by endocrine problems, such as hypogonadism or hypothyroidism or hyperthyroidism, should be evacuated and appropriately treated before slidenafil treatment is considered.
Cardiac risk associated with sexual activity should be individually accessed prior to initiating any treatment for erectile dysfunction.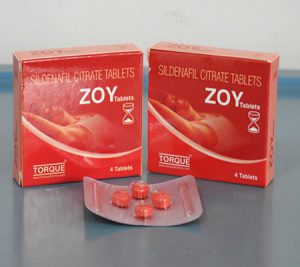 Before taking your medicine:

Don't take Zoy if you:

Have or had heart problems
Have low blood pressure or have high blood pressure that is not controlled.
Have had stroke
have liver problem
Have ever had severe vision loos
Have kidney problems or require dialysis
Have retinitis pigmentosa, a rage genetic (runs in families) eye disease.
Have stomach ulcers
Have a bleeding problem
Have a deformed penis shape or payrronie's disease
Have had a erection that lasted for more than 4 hours
Have blood cell problems such as sickle cell anemia, multiple myeloma, or leukemia.
Are taking a medicine called a prostease inhibitor for the treatment of HIV.