COMPOSITION:
Each uncoated tablet contains:
Dextromethorphan HBr B.P 10mg
Guaifenesin B.P 100mg
Bromhexine HCI B.P 8mg
Chlorphenirmine Maleate B.P 2mg
Colour: Tertrazine Supra FCF
DESCRIPTION:
Torex Tablet contains combination of Detromethorphan HBr, Guaifenesin, Bromhexine HCI and Chlorpheniramine Maleate, Detromethorphan HBr is almost crystalline powder, freely soluble in ethanol and in chloloform, Guaifenesin is white crystalline powder, soluble in Ethanol and in Chloroform, Bromhexine HCI which is almost white crystalline powder sparingly soluble in Ethanol and slightly soluble in Chlolroform Chlorpheniramine Maleate is white crystalline powder, soluble in water and alcohol and slightly soluble in Benzene.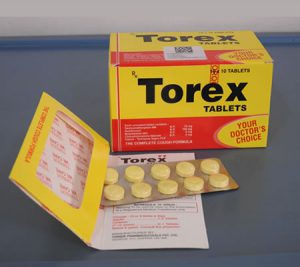 MECHANISM OF ACTION

Torex tablet have either a central or a peripheral action on the cough reflex or combination of both, centrally acting cough suppressant increase the threshold of the cough center in the brain to incoming stimuli whereas those acting peripherally decrease the sensitivity of the receptor in the respiratory tract.

INDICATION

Torex tablet offers Guaiphenesian as an expectorant, Detromethorphan Hydrobromide as cough suppressant Bromhexine Hydrochloride as a mucolytic agent and Chlorpheniramine Maleate as H1 Receptor antihistamine. It is an effective combination to relieve cough Miseries such as Asthma, whooping Cough, Post Surgical Cough, Dry Cough and chronic Cough.

DOSAGE:
(3 or 4 times a day)
Adults………………………….1-2 Tablet
Children:
(7-12 years)……………………….1/2-1 tablets
Below 6 years. Consult the physician

SIDE EFFECTS:
Torex tablet can cause gastrointestinal discomfort, Nausea, Vomiting, Excitation, Confusion, Dizziness and respiratory depression.

CONTRAINDICATION:
NO major Contraindications but patients with known hypersensitivity to active ingredients.

PRECAUTIONS:

When taking any preparation containing an antithistamine, avoid physical activity requiring alertness, such as operating machines or driving. Patients with Cardiovascular and rental disorders are advised to seek prior medical consultation.

KEEP AWAY FROM CHILDREN
STORAGE:
Store in a cool dry place. Protect from light.