COMPOSTION:
Each uncoated tablet contains:
Propranolol HCI B.P.40mg
INDICATATION:
Cardiac arrhythmia, Hypertension, Angina and Anxiety
DOSAGE:
1-2 tablets a day or as directed by the physician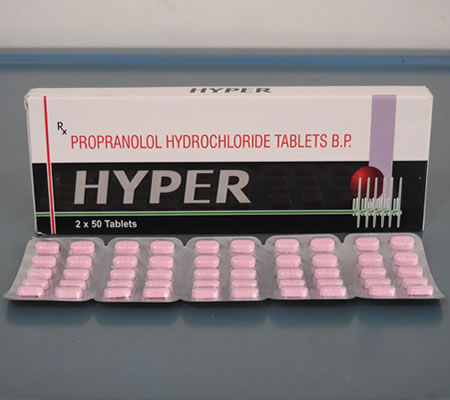 CONTRAINDICATIONS:

Cardiogenic shock, heart block(2nd or 3rd degree), congestive cardiac failure, marked bradycardia, chronic obstructive pulmonary disease or Raynaud's phenomenon.

Special Precaution & Drug Interactions

Hepatic dysfunction, renal dysfunction, reduces cardiac reserve, peripheral arterial disease. Drug to be withdrawn gradually in patients of Ischemic heart disease.

DRUG INTERACTIONS:
Quinidine: Orthostatic hypotension.
Rifampicin, Phenobarbital, NSIADs, Thyroid hormones.
Smoking: decrease antihypertensive action of propranolol.
Corticosteroids: Antagonism of hypotension and bradycardia.

Pregnancy. Use with caution.
Lactation: use with caution
Elderly: May be used

Adverse Effects

Fatigue, tiredness, skin rash, fever, depression, nightmares, sexual dysfunction, nausea, epigastric distress, cold extremities, Hypoglycemia.

Storage

Protect from heat, light & moisture.
Keep out of the Reach of children..

PRESENTATION: 2×50 Tablets in a Duplex Board carton.