PRESENTATION:
Each D-Worm tablet is a orange coloured, circular, chewable tablet containing 200mg Albendazole.
INDICATION:
D-Worm is indicated in the treatment of single or mixed infestations of intestinal parasites. Clinical studies have shown albendazole to be effective in the treatment of Ascaris lumbricoides (round worm), Trichuris trichiura (whip worm), Enterobius vermicularis (pinworm), Ancylosloma duodenal and Necator americanus (hook worm), H. nana and Taenia spp.(Tape worm), Strongyloides stercoralis(thread worm) and Opisthorchis viverrini and Opisthorchis sinensis.
Albendazole has also been shown to effective in the treatment of Giardia lambilla infections in children.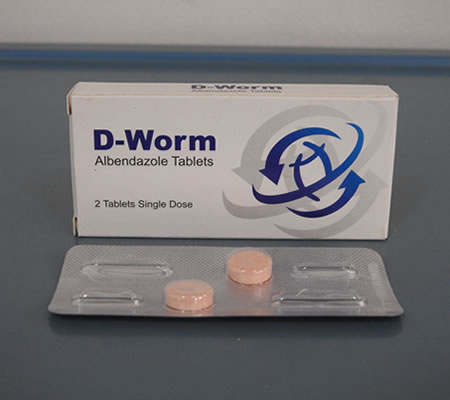 DOSAGE AND ADMINISTRATION

Adults and children (over two years).

Usual Dose: Two 200 mg(400 mg) D-Worm Tablets as a single close in both adults and children over two years of age. The tablets may be chewed, swallowed or crushed and mixed with food. in case of suspected or confirmed Strongloides, Taeniasis or H. Nana infestation, D-Worm 400 mg daily should be given for three consecutive days. D-Worm 400 mg twice a day for three days is effective and safe in the treatment of patients with mixed worm infestation including Opisthorchis viverrini and Opisthorchi sinensis.

Children 12-24 months
Usual dose: 200 mg D-Worm tablet as asingle dose.
The drug has not been studied in children under 12 months.

CONTRAINDICATIONS:

Albendazole is known to be Teratogenic and embryotic, in rats and rabbits. Therefore, it should not be administered during pregnancy or in women thought to be pregnant. (For women of child bearing age (15-40 years). D-Worm should be administered with in 7 days of the start of normal menstruation).

Pharmaceutical Precaution

Store in cool, dry place and protect from light.

PACKAGE QUANTITIES:
Blister pack of 2 tablets