COMPOSITION:
Each uncoated tablet contains:
Paracetamol B.P. 500mg
Caffiene B.P. 30mg
Phenylephrine Hydrochloride B.P. 5mg
Chlorpheniramine maleate B.P 2mg
Colours: Ponceau 4R
DESCRIPTION:
Cold Go mainly contains Paracetamol which is a para-aminophenol derivative, produces antipyresis by acting on the hypothalamic heat regulating center and analgesia by elevating the pain threshold. Cold Go also contains Phenylephrine Hydrochloride which is commonly used as a nasal decongestant. It also contains
caffiene which is a Xantheine alkaloid compound that acts as a psychoactive stimulant in humans.
The fouth active constituent is Chlorpheniramine, an alkylamine derivative ant-allergic property.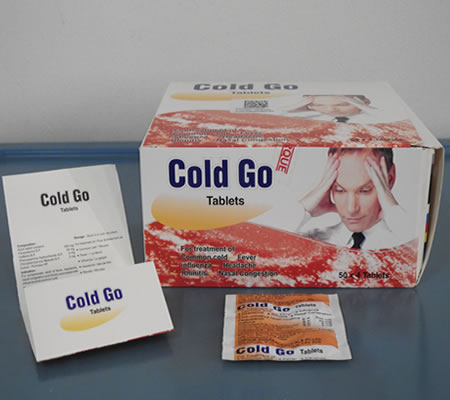 MECHANISM OF ACTION

Prostaglandins associated with the development of pain. Paracetamol inhibits the synthesis of Prostaglandins, thus producing analgesia. In fever prostaglandins act within the hypothalamus to produce the resultant elevation to body temperature by the processes that appear to be mediated by the cyclic AMP. Paracetamol suppresses this response by inhibiting the synthesis of prostaglandins. Phenylephrine Hydrochloride afford relief in cough and cold.

INDICATIONS

Cold Go tablets has analgestic and antipyretic properties and weak anti-inflammatory activity, Paracetamol is recommended for the treatment of mild to moderate pain and fabrile condition, for example headace. toothache, backache, cold influenza and rheumatic pain. cold Go tablet is also used as nasal decongestant and stimultant.

Dosage

As directed by the physician.

SIDE EFFECTS

Skin rashes, and other hypersensitivity reactions occurs occasionally. Overdosage of Paracetamol may be injurious to liver.

CONTRAINDICATION:
No major Contraindication but patients with known hypersensitvity to any of ingredients.

DRUG INTERACTIONS:

Cholestyramine reduces the absorption of Paracetamol.
Domperidone and Metaclopramide enhances the absorption of paracetamol. Excretion may be affected when administration with probenecid.

PRECAUTION:
Cold Go should be given with care to patients with impaired kidney or liver function and patients with alcohol dependence. Avoid driving motor vehicle or operating machinery while taking this drug.

KEEP OUT OF REACH OF CHILDREN.

STORAGE:
Store in a cool, dry place