COMPOSITION:
Neomycin sulphate USP 0.5%w/w
In a cream Base
Preservatives:
Sodium Methylparaben B.P 0.2%w/w
Sodium Propylparaben B.p 0.05%w/w
Description:
Neomycin sulphate belongs to a class of antibiotics known as the aminoglycosides in the form of a cream, neomycin can be used to treat broad kinds of bacterial infections.
Mechanism of Action:
Neomycin Sulphate cream is activetly transported across the bacterial cell membrane, binds to a specific receptor protein on the 30 S subunit of bacteria ribosomes, and interferes with an initiation complex between mRNA (Messenger RNA) and the 30S subunit, inhibiting protein synthesis. DNA may be misread, thus producing nonfunctional proteins; polyribbosomes are split apart and are unable to synthesize protein.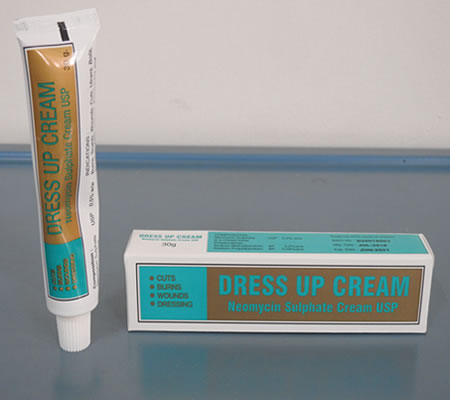 DIRECTION:

Before applying, wash affected area with soap and water and drying thoroughly. Proper administration technique for cream and ointment; after applying, cover treated area with gauze dressing, if desired.

INDICATION:

Neomycin is used in the treatment of minor bacteria skin infections and dermal ulcer, in the prophylaxsis of superficial infections in minor absrasions, burns and cuts, scalds, wounds, cuts, ulcers, Boils, impetigo, Otitis externa, Paronychia, and secondary infections in scabies and Lice.

CONTRAINDICATION, ADVERSE REACTION & PRESENTATION

Contraindication:
Sensitivity to aminoglycosides.

Adverse Reaction:
Rare incidence of rash, redness, sweeling.

Presentation:
30g tube packed in a Duplex board mono carton.