COMPOSITION:
Ketocoazole B.P 2%W/V
Shampoo base q.s
Description:
Ketomac mainly contains Ketoconazole which is used to treat and prevent fungal infections on the scalp such as dandruff.
MECHANISM OF ACTION :
As with all azole antifungal agents, ketoconazole works principally by inhibitation of cytochrome P450 14a-demethylase (P45014DM). This Enzyme is in the sterol biosynthesis pathway that leads from lanosterol to ergosterol. Ketoconazole has more potential to effect mammalian cell membranes and induce toxicity
INDICATION:
Kerocozazole 2% shampoo is indicated for the reduction of scaling due to dandruff.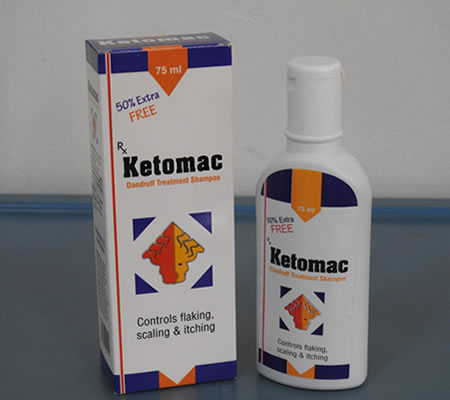 DIRECTION FOR USE

Moisten hair and scalp thoroughly with water.
Apply sufficient shampoo to produce enough lather to wash the scalp and hair, gently massage it over the entire scalp area for approximately with warm water.
Repeat, leaving the Shampoo on the scalp for an additional 3 minutes.
After the second thoriugh rinse, dry the hair with a towel or warm air flow.
Shampoo twice a week for four weeks with atleast three days between each Shampoo and then intermittently as needed to maintain control.

CONTRAINDICATION:

Ketoconazole is contraindicated in patients who have shown hypersensitivity to the drug or excipients of the formula (s)

SIDE EFFECTS:

Most commonly reported side effects associated with Ketoconazole based shampoos are dryness of the scalp, itching and mild irritation.

PRECAUTION:

If a reaction suggesting sensitivity or chemical irritation occurs, use if the shampoo should be discontinued.

PREGNANCY AND LACTATION:

Ketoconazole shampoo does not produce detectable blood levels after topical application. However due to the teratogenetic nature of the active ingredient. Ketoconazole, the use of the shampoo is not recommended in pregnant or nursing women except under the advice of physician.

CHILDREN:

Clinical data on the use if Ketoconazole shampoo in children under 12 are not available; therefore, such use is not recommended except under the advice of a physician. As with other shampoos, care should be taken to keep the Shampoo out of the eyes and off the eyelids.

DRUG INTERACTIONS & STORAGE

DRUG INTERACTIONS:
There are no signification interactions with Ketoconazole when it is used as a shampoo.

STORAGE:
Store in a cool place, protect from direct sunlight.