COMPOSTION:
Beclomethasone Dipropionate BP 0.025%w/w
Phenylephrine Hydrochloride BP 0.10%w/w
Lignocaine Hydrochloride BP 2.5% w/w
Chlorocresol (Preservative) USP 0.10%w/w
DESCRIPTION:
Beclomethasone Dipropionate is a potent glucocorticoid steriod, used to treat severe inflammatory skin disorders. Phenylephrine Hydrochloride shrinks the swollen tissues of hemorrhoids by constricting blood vessels that feed blood and fluid to the area around the hemorrhoid. Lignocaine Hydrochloride is a common local anesthetic and antiarrhymic drug, used topically to relieve itching, burning and pain from skin inflammations.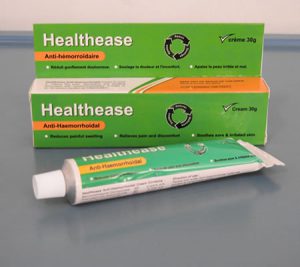 INDICATION

Healthease is a rectal cream used to treat pain and bleeding caused by conditions such as anal fissures, hemorrhoids (piles), post-hermorrhoidectomy and mild proctitis ( an inflammation of the anus and the lining of the rectum ). This topical cream (applied on the skin) provides relief from pain, discomfort, burning, sweeling, itching and irritation around the anus,

CONTRAINDICATIONS:

Hypersensitivity to any of the ingredients of this preparation contraindicates its use.

DOSAGE AND DIRECTIONS FOR USE: Apply a small amount of Healthease cream onto affected area. Apply the medicine by uisng the applicator or as directed by the physician.
Use the cream before and after each bowel movement.

STORAGE AND PRESENTATION

Store in a cool and dry place.

PRESENTATION: 30gm aluminum tube